Shuttle Bus Shuttle bus guide
Information
For the convenience of customers using Hotel PJ, a free shuttle bus is in operation.
Please refer the below information for the operation details.
Mon-Thu | Not in service
Fri | A,B Courses are available
Sat, Sun | A,B Courses are not in service /
Chungmuro and Euljiro 4ga Station <-> Hotel circular bus is available
- Srops at Chungmuro Station (line 3, 4) exit 8
- Stops at Euljiro 4ga Station (line 2, 5) exit 9, alley near the GS25(convenience store)
Free of charge
If you return to the hotel by shuttle bus, please wait in the place where you dropped off before boarding.
Please note that departure and arrival times may vary depending on traffic conditions.
The shuttle bus is waiting at the front door of the hotel (see timetable)
If you wait for the shuttle bus, please use the Waiting Lounge on the first floor.
Course A
Operating time
| 1 | 2 | 3 | 4 | 5 | 6 | 7 | 8 | 9 | 10 |
| --- | --- | --- | --- | --- | --- | --- | --- | --- | --- |
| 08:15 | 08:30 | 08:45 | 09:00 | 09:15 | 09:30 | 09:45 | 10:00 | 10:15 | 10:30 |
| 11 | 12 | 13 | 14 | 15 | 16 | 17 | 18 | 19 | |
| 10:45 | 11:00 | 12:00 | 13:00 | 14:00 | 15:00 | 16:00 | 17:00 | 18:00 | |
Myeong-dong direction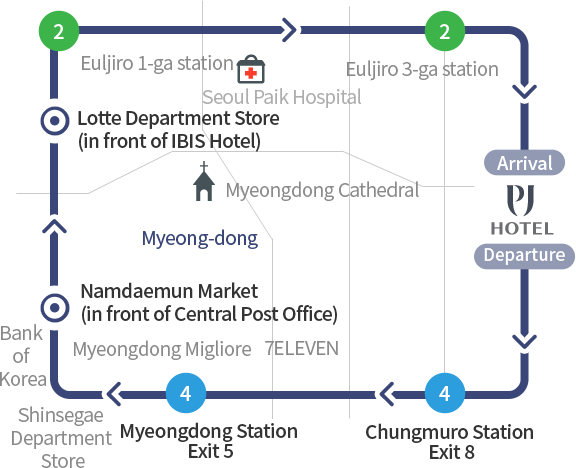 Course B
Operating time
| 1 | 2 | 3 | 4 | 5 | 6 | 7 | 8 | 9 | 10 |
| --- | --- | --- | --- | --- | --- | --- | --- | --- | --- |
| 19:00 | 19:30 | 20:00 | 20:30 | 21:00 | 21:30 | 22:00 | 22:30 | 23:00 | 23:30 |
| 11 | 12 | 13 | 14 | | | | | | |
| 00:00 | 00:30 | 01:00 | 01:30 | | | | | | |
Dongdaemoon direction